About my 1971 Nova SS: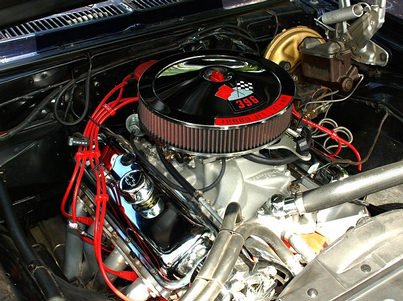 The original Nova SS small block engine has been replaced with a big block 396 cid V8. While the 396 V8 was no longer a production option in 1971 for the Nova SS (due to government influence and insurance company pressures on GM), that doesn't mean you can't put one in yourself...!

Bigger is Better!

Additional upgrades and features include a Schneider racing cam, Edelbrock 750 carb, Edelbrock Preformer RPM alum intake, 98cc closed port heads, Taylor Pro Series High Performance Ignition wires, Hooker ceramic coated competition headers, 2 1/2" Flowmaster exhaust system, K&N Air Filter, Mallory HI distributor, chrome pulleys, Energy Suspension motor mounts, extra capacity radiator, and flex fan.
In January 2008 when I bought the car, it had a Muncie M21 4 speed w/ Hurst Competition Plus Shifter and 11" clutch. That has now been replaced (March 2010) with custom built 700R4 automatic with a B&M QuickSilver shifter. Love the overdrive and the QuickSilver...!! Makes driving much more enjoyable with the 3:73 gears :)

Front suspension has all new tie rod ends, bushings and ball joints, front coil springs, heavy duty 1" anti-sway bar, disc brakes, body mounts, hoses, brake & fuel lines, master cylinder w/ line lock, Gas tank, Chrome alternator....all new.

Rear end is 12 bolt posi w/ 3:73 gears, multi leaf springs, traction bars, and Moroso cover.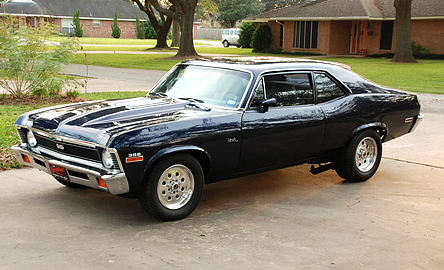 Tires and Wheels:
Wheels are Weld Racing Draglite XP 15" x 9" on rear with Cooper Cobra G/T tires P255/60R15.

Weld Racing Draglite XP 15" x 5" on front with Cooper Cobra G/T tires P215/65R15.


Interior is custom grey leather with perforated inserts all new July 2006. Interior includes SS console w/ gauges, reclining bucket seats, Kenwood stereo, Kenwood speakers.

Exterior has all new chrome as needed, steel cowl induction hood w/SS louvers, and shaved door handles.
Paint color is 2000 Camaro Midnight Blue Pearl.



Photo to the right: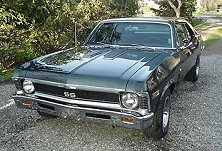 In 1969, while a senior in College in San Marcos Texas, I bought/ordered a new Nova SS L78 from dealership there...Drove it for about 33,000 miles and traded it...WHAT A DUMMY...!! Pictured to the right is what the original car I owned looked like back in 1969; Fathom Green, Ralley wheels, front bench seat, three speed manual transmission on the floor. Now, almost 40 years later, I have finally got another Nova SS...!!

I traded the '69 Nova SS in at a dealership in Wharton, Texas in 1971. It was purchased by someone from Van Vleck, Texas at that time. If anyone knows of this car in the Van Vleck area, please contact me.
Bayfish@gmail.com